Enhanced Certifications
Certifications added can be set to not expire, can have duration adjusted, and have helper text has been added to Worker Baseball Cards to view length of time.
Certifications can be accessed directly from the Worker Baseball Card.
Quickly add and edit certifications from the Workforce Table with in-table editing and a new Apply Certification button.
View certification attachment previews in your web browser and easily download the files.
Add multiple certifications at once with the new bulk editing table feature.
Updated certifications filter now has option to show workers who have ANY or ALL of selected certifications for more customized views.
Workers can view their certifications in their RIVET profiles.
Customer Requests

1. When Labor Rates are added to roles or to individual workers on a job, the blended labor rate will display on all Roster Job Cards, even when there are no hours bid or budget set.
2. Viewing Single-Day Schedules on the Workforce Schedule is easier, with more visibility on single day schedule segments, more visibility when a worker is assigned to multiple jobs, more visual distinction between job segments and availability segments, and ability to click on a summary bar to expand a worker.
3. Unavailable icons now display on the Worker Baseball Card in the schedule summary when any availability status is scheduled.
4. In the Schedule Drawer, workers in the dropdown list are now organized with more consistent groupings. We've added a new availability status option for "furlough."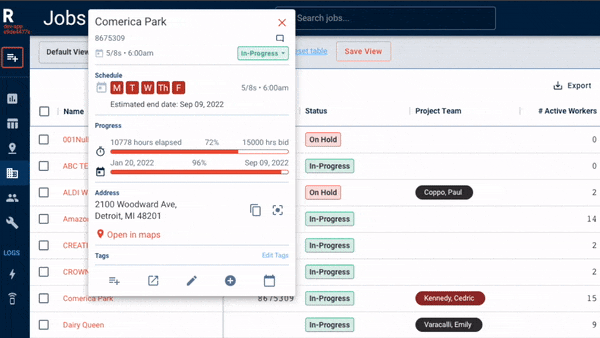 Updated Job Baseball Card

On the updated Job Baseball Card, you can view the following information:
At the top: The Job Name will always display here. If entered, the job number, job description job default schedule will also display here. Users with the ability to add or edit jobs now have the ability to add and view comments via the comment icon and see if labor scheduled is over or under forecast via the colored notifications in this section.
Progress: View your progress by hours elapsed vs your bid, or by days passed vs your end date.
Address & Map: Add your jobsite address to view the location in your device map, copy the address or view the location in the RIVET map via the target icon.
Tags: View and edit tags for filtering your jobs by division, project manager, or any category you'd like.