Howdy! How can we help you?
How do I request labor on the Roster Board?
With Roster Labor Requests, requested workers can be deployed at a faster rate. Easily plan Labor Requests by simply adding placeholder positions to a job card on the Roster Board where workers are needed. Quickly fill requested positions using the same Schedule Builder workflow.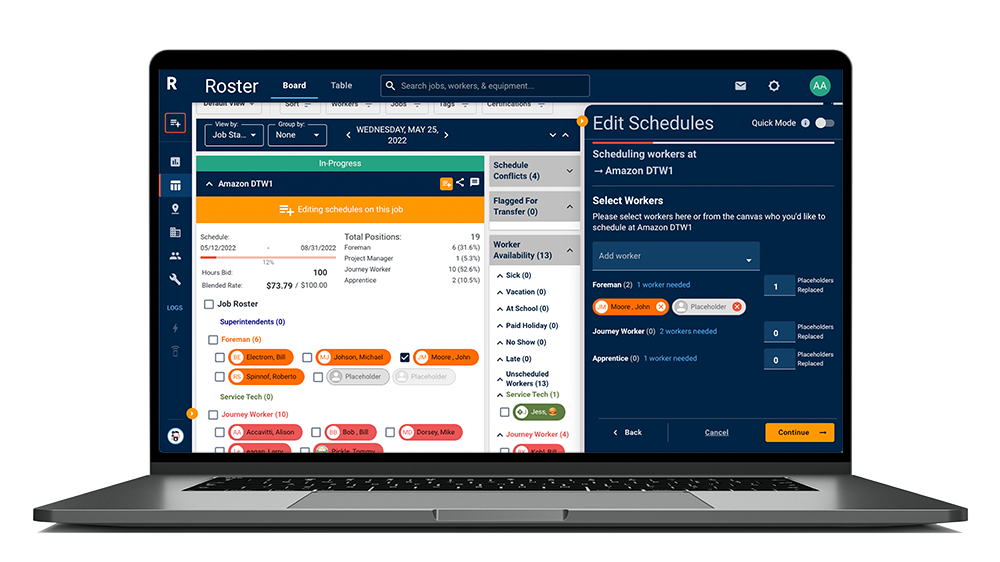 To add a placeholder position:
1. Select
Roster
from the left-side navigation drawer.
2. Plan Labor Requests by navigating to the job where workers are needed.
3. Go to the desired role that needs to be filled and hover over to the right-hand side where a plus sign (+) appears.
4. Select the plus sign (+) to add a placeholder position with a schedule.
To fill the role:
1. Select the
Schedule Builder
icon from the job card.
2. The scheduling drawer will pop open and will exhibit the position that needs to be filled for the job.
3. Select the worker that will fill the requested position.
4. Follow through the rest of the schedule builder prompts to complete the worker's schedule.
5. Woo! You have successfully filled a placeholder position by building a schedule!