Step 4: Schedule Forecast Labor
Step 4: Schedule Forecast Labor
Once you've added workers and jobs to the Job List in your Rivet platform, you are ready to build schedules and labor forecasts to quickly determine and allocate short- and long-term resources.
Navigate to "Schedule" in the main menu, then select the "Jobs" view of the Schedule.
1. Using Rivet Batch, you can build a full crews schedule from start to finish with a couple clicks.
Select "Batch"
Choose which jobs and which worker roles you want to edit
Complete Rivet scheduling wizard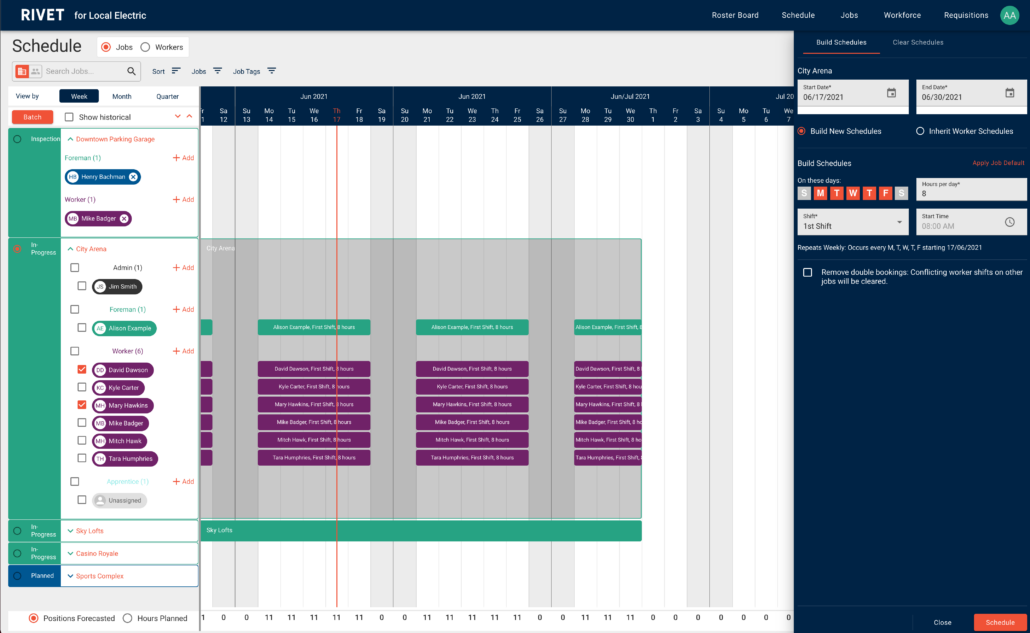 2. Use Rivet Forecast to gain insights quickly as to when a job's workforce is about to increase or decrease helping you to quickly fill roles or find new work for your crew members.
Running horizontally at the bottom of your schedule screen, you can find your labor forecast an hours forecasts to understand your organizations and jobs labor requirements from beginning to end.

Note: Assigning workers to a job will not notify workers of the assignment. Notifications are sent with Rivet's Dispatch feature.