Step 5: Match Workers to Jobs
Step 5: Match Workers to Jobs
Once you've built your schedules and labor forecasts using the Rivet Schedule, you are ready to match workers to jobs and track daily assignments.
Navigate to "Schedule" in the main menu, then select the "Jobs" view of the Schedule.
1. Find the right people with worker tags and assign workers to a worker schedule with a single click.
Select a worker name on any of the Rivet views. This reveals a Worker Card with quick information.
The Worker Card also has links to the workers full Profile, or the "Assign" button.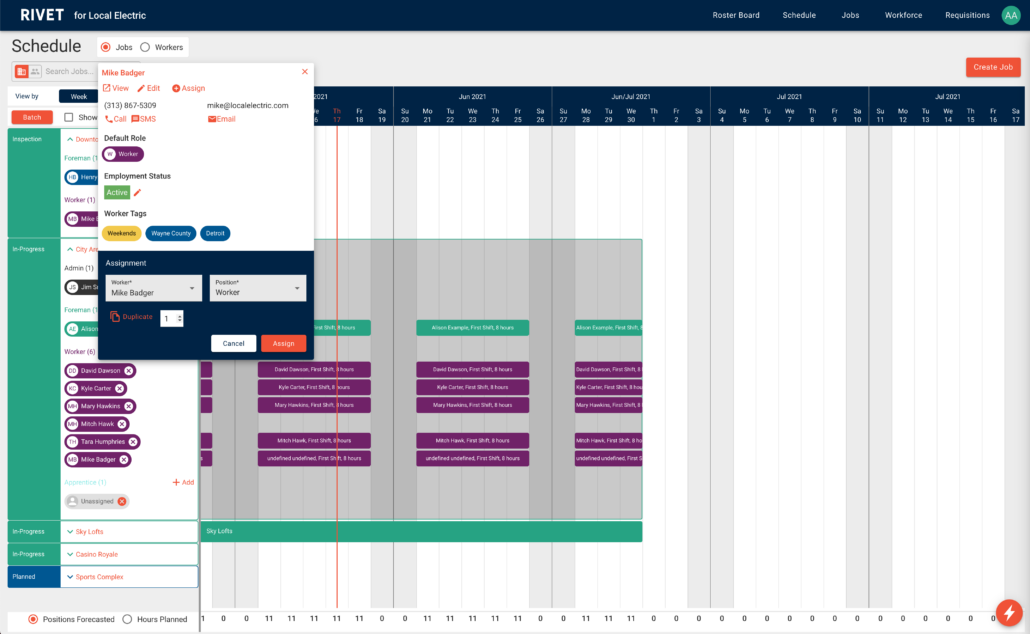 2. Use Rivet's Roster Board to manage Rosters across your organization and daily assignments.
With the Roster board, you can:
Know where all of your workers and jobs are on any given day
View today's active job assignments for all jobs and roles
Quickly identify which jobs and workers have no assignments today
Print the Roster to share with your team throughout the day
Transfer workers from one job to another with the Transfer Drawer. This feature is also new on the Schedule-Workforce view. Transferring is as simple as pushing a button, select workers by checkbox and picking a transfer job. The rest of the details are intuitive to help you create a custom schedule.
View quick stats of scheduled positions on the job to monitor labor costs
See your workforce color-coded by default role for a fast glimpse of who is doing what
Filter your workers and jobs by tags
The Date Log on the Roster view provides a record of daily changes to your jobs and workforce, so you can quickly review new hires and layoffs, job start and end date, and new assignments beginning today.