RIVET Live Demo Registration
Attendees are entered to win lunch for your labor staff by random monthly drawing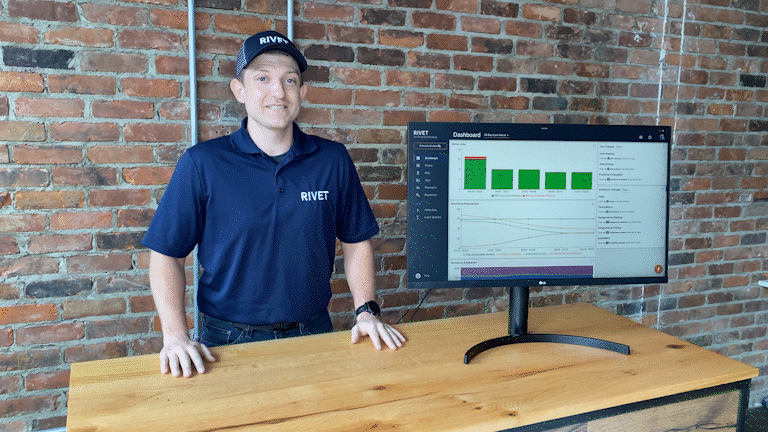 These demos are 30 minutes long and will cover:
Your Digital Workspace. With RIVET, back office and construction field teams can come together in a unified workspace for labor planning, coordination and communication.
Daily Field Shuffling. Transform juggling the field with RIVET's digital Roster Board, Schedule Drawer and Custom Table Reports.
Location-based Transferring. Easily find workers by their location with the RIVET Resources Map.
Weekly Labor Planning. Optimize your labor meeting by flagging workers for transfer and assigning placeholders where positions need to be filled.
Workforce Data Management. Sync your entire employee database into one platform, where you can monitor expiring certifications and upcoming or ended job assignments.
Labor Forecasting. Utilize an in-app Forecast to project the labor needed to complete the job on time and under budget. Stay ahead of the curve with Lookahead Reports.
Equipment Scheduling. Easily schedule equipment the same way you schedule your workforce.
Q&A. Question and answers (15 minutes).
Register for a free 30 minute demo using the link below:
Register for our weekly live RIVET webinars using the links below:
8:00 AM EST / 7:00 AM CST
4:00 PM EST / 3:00 PM CST
Explore RIVET's features
Easily forecast, schedule and deploy crews with RIVET tools.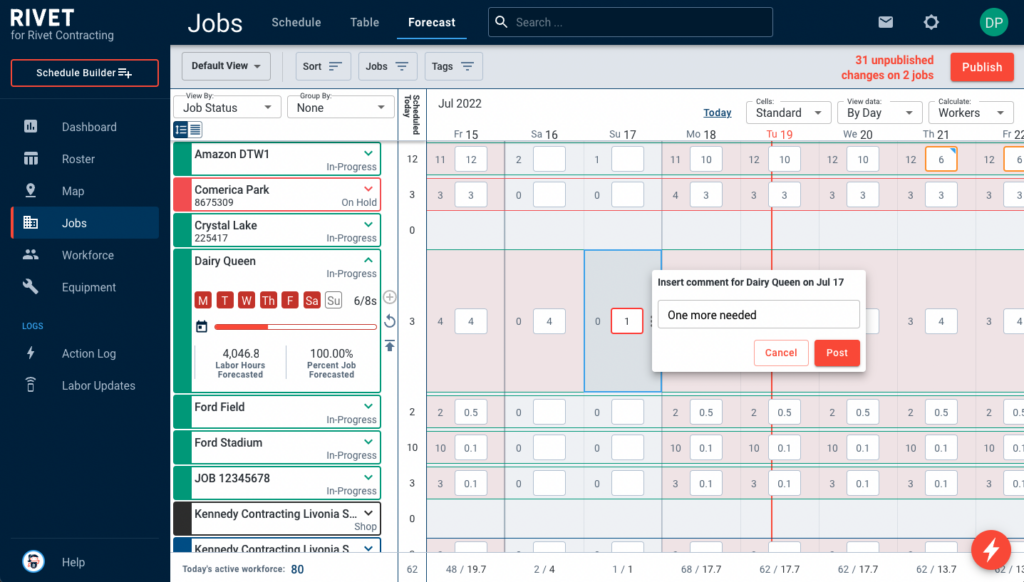 Project managers can build labor forecasts for their jobs, submit them for approval to labor coordinators and view published labor forecasts.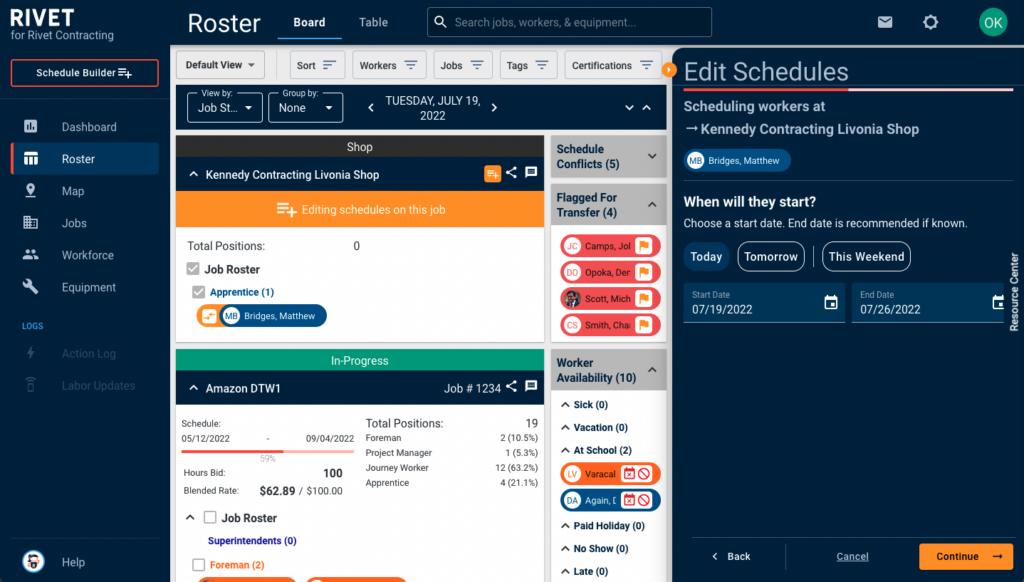 Batch crew schedules in bulk on a gantt, carry a digital roster in your pocket with the ability to quickly view worker baseball cards and labor requests, then transfer workers where they are needed on demand.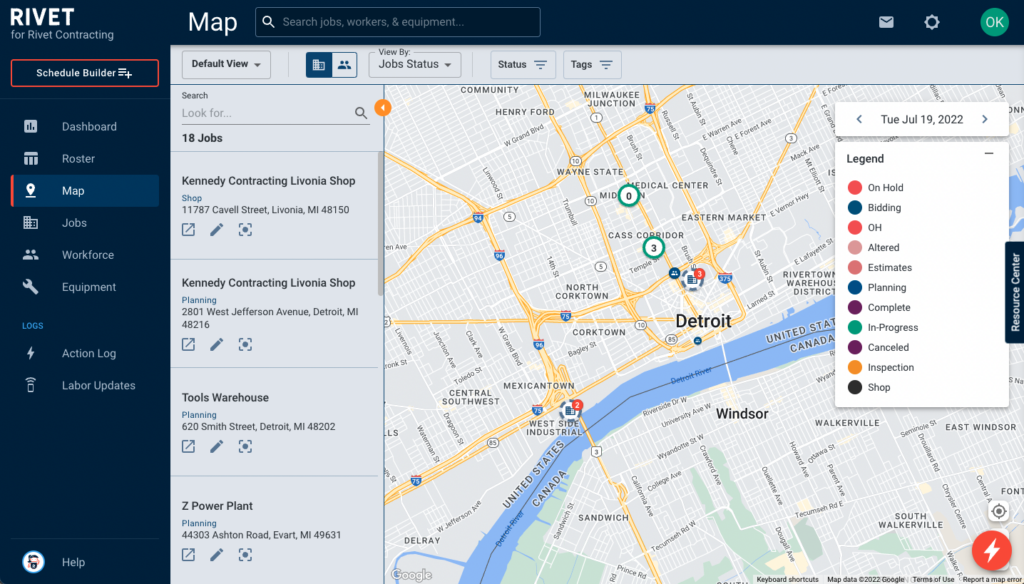 View your entire field in real time, with location-based availability and dispatch. Find workers who are near-by proximity to job sites, and vice-versa. Send dispatch messages to local workers closed to the job site.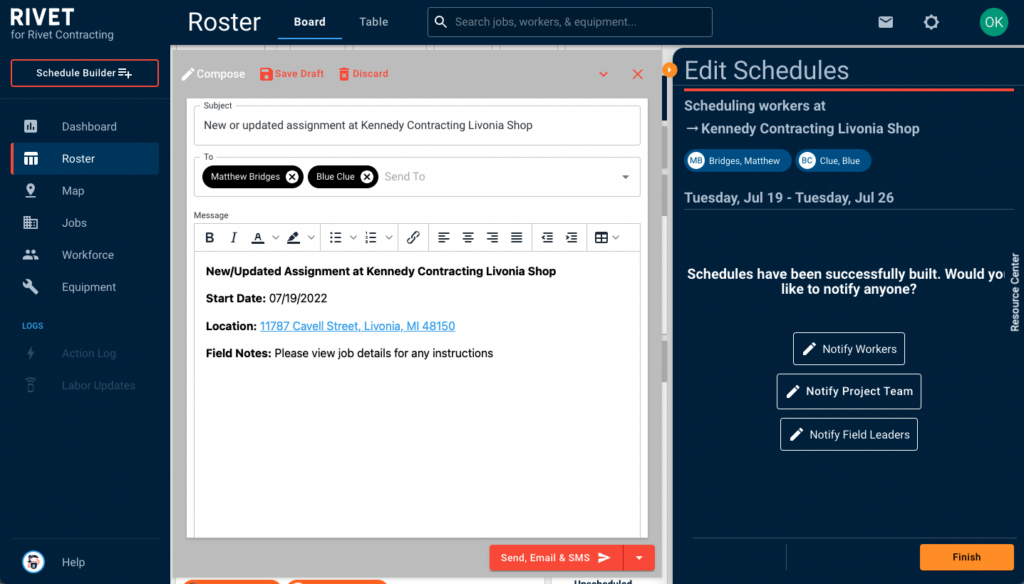 We've watched labor coordinators field hundreds of calls and messages each day. Rivet transforms your scheduling actions into automated dispatch templates that you can send to workers, field leaders and project managers. All messages are saved for easy reference later on.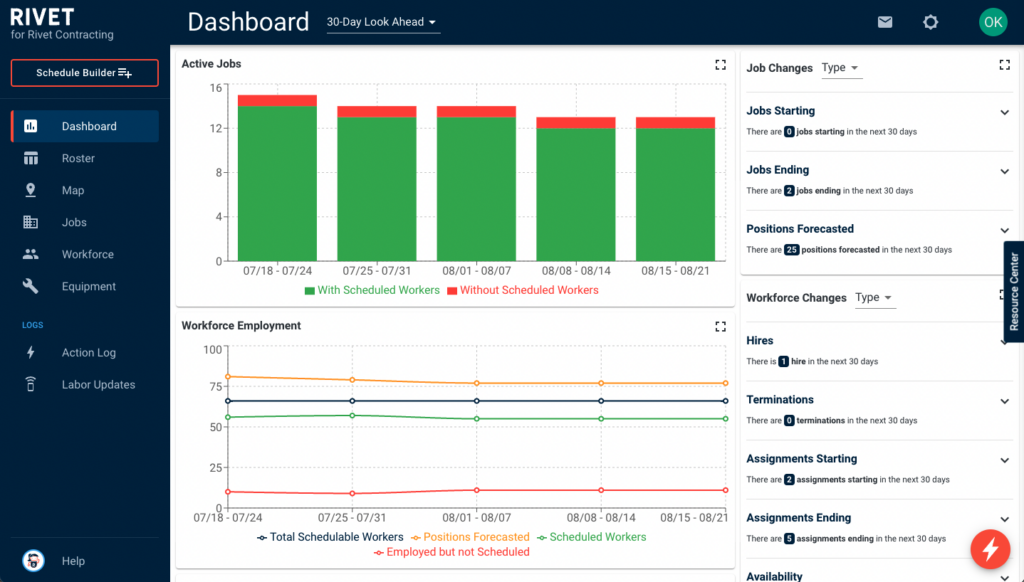 View your data the way you want to with Custom Table Reports. Leverage tags to view your crews by location, by skillset or anything else that is important to you.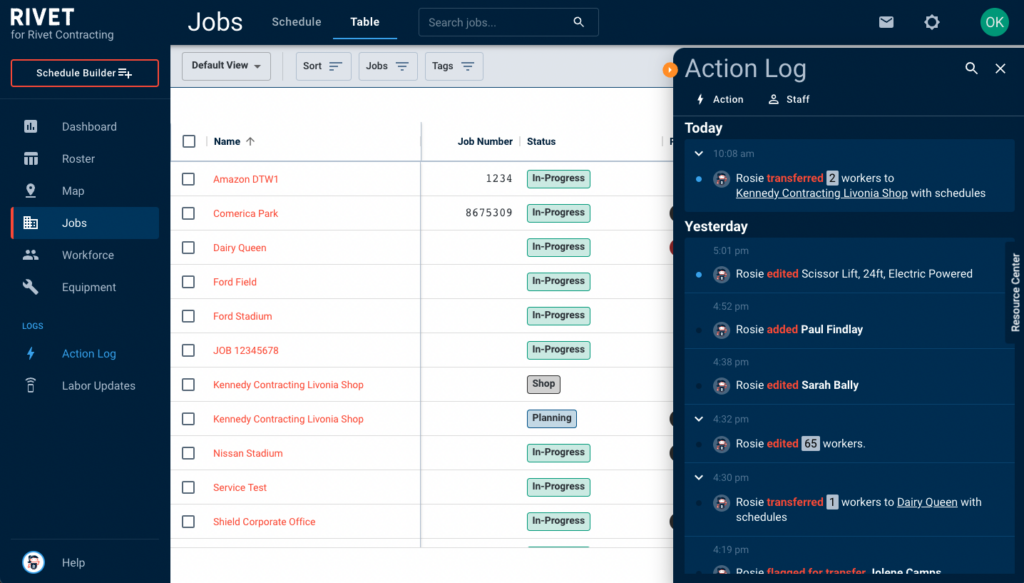 The ultimate tools for Schedulers. The Action Log records your changes as you go so you can keep track of it all or share changes with your team. Check the Labor Updates Log to see a feed of workers arriving and leaving jobs, hiring and availability changes.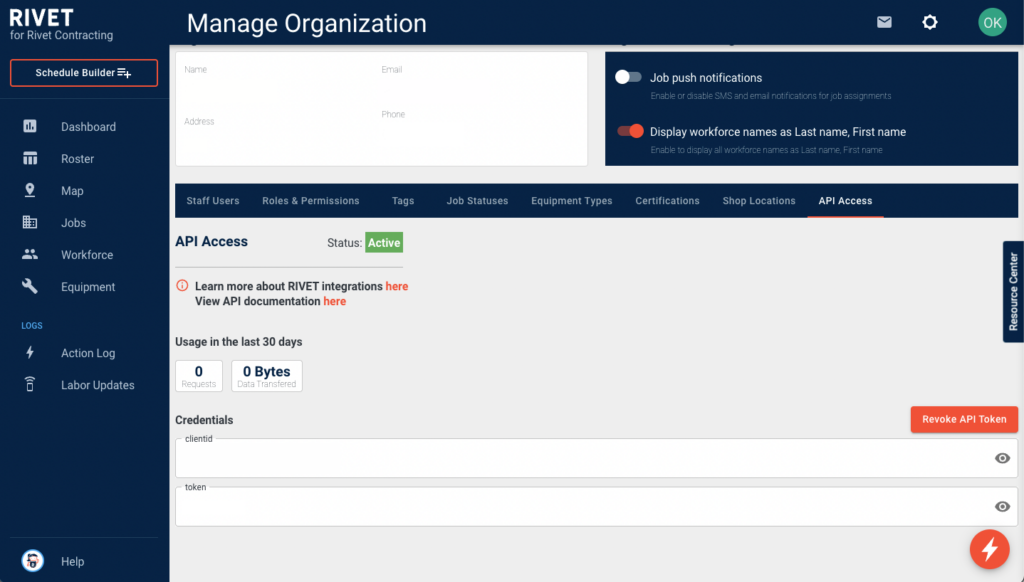 Rivet is your place for labor forecasting, workforce and equipment profiles and scheduling. Integrate this information with your accounting, ERP, CRM or other systems to save time and avoid duplicate data entry.
Assign your tools and equipment directly to job sites, vehicles or crew members. Build schedules and dispatch instructions, add warehouse and crib managers for the ability to request and assign equipment. Forecast equipment types on future jobs.